Disclosure: This content is reader-supported, so if you click on some of our links, we may receive a commission at no cost to you. For more information, please visit our Disclosure page.
Living in our fast-paced society today, it can be hard to maintain healthy eating habits when you're constantly on the move. Whether you commute daily for work, shuttle your youngsters from soccer practice to swim class, or go on a vacation – it seems like there are not enough hours in the day to get everything done. Most of us recognize that sitting down to unwind and enjoy our meals at the dinner table would be ideal. Sadly though, you probably eat at your desk, if at all. After work, you're so busy that a bag of nuts and granola bars become your meals.
Here are 10 ways to help you achieve a healthy eating plan.
1. Plan Weekly Snacks
Getting snacks prepared does not have to be challenging.
You can make life a lot easier, for you and your family, by assembling an entire assortment of healthy snacks for the coming week. There is not much effort involved for snacks such as orange slices and almond butter with slices of apples. Or perhaps a fruit parfait, air-popped popcorn, or hummus with carrots or celery sticks.
2. Pre-Chop Veggies
Do you like the suggestion of preparing beforehand but dislike the idea of chopping veggies? This can be easily solved by buying your fruits and veggies pre-cut. This is convenient when you want to utilize your slow-cooker to create soups and stews during the time you're at work. job all day. Above all, this means you're most likely to carry out your plans.
3. Carbs & Proteins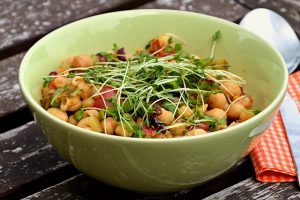 The ideal dish or snack has the perfect combination of carbs and proteins. And so chickpeas are one of the best because they consist of both. Another option is having a piece of citrus fruit with walnuts or almonds.
4. Consider Icy Fruit
Frozen fruit snacks are terrific whether it's a banana or grape chunks. Due to the brain freezing potential of these cold treats, you're likely to savor them as you eat them slowly. You'll obtain the nourishment you require, and it will also help suppress your craving for sweets. It's quite easy to have snack bags prepared that you can enjoy when you're on the move.
5. Don't Skip Breakfast
The most often skipped meal of the day is breakfast. Maybe you don't feel like eating or just running short on time. In any case, you can blend a quick smoothie or make breakfast burritos beforehand and store them in the freezer so you can microwave them before you leave.
6. Assemble Meals in Advance
This is an excellent fix for snacks and lunches.
Store them in a container in either the fridge or the freezer. Additionally, you can prepare your dishes beforehand, that way they are ready to be tossed in the slow cooker prior to heading out for the day.
7. Bring Your Lunch
Avoid unhealthy eating and temptation that frequently arises when dining out for lunch. Prepare your own lunch so that you can regulate what you consume.
8. Simple is Best
Do not get caught up attempting to make fancy dishes that may disappoint and get thrown out. Make simple dishes that your whole family loves that are quick to make and store.
9. Plan Dinner Schedule
We don't all have the time to be inspired in the kitchen. However, we can find the time to plan a dinner schedule to keep things running smoothly. Furthermore, it will make grocery shopping much simpler. because you know precisely what's on the menu and when. You can have Pasta Tuesdays, Enchilada Thursdays, and Taco Fridays, and so on.
10. Consider Meal Kits
If you're short on ideas on what to cook for your meals, think about joining a meal subscription box. This takes the hassle out of planning the week's menu as well as shopping for the food.
These boxes are delivered and include a variety of pre-measured ingredients. Just follow the instructions provided to get delicious meals on the table within minutes.
Adopting healthy eating habits begins with healthy food options. It does not mean you have to eat bland foods or go on some restrictive diet. Learn how to incorporate nutrient-dense foods like fruits and vegetables into your daily diet. Not only will they nourish your body but also prevent much serious and chronic health problems like diabetes, high blood pressure, and heart disease.
Check out the #1 WORST Foods For Your Skin, Joints, and Blood Sugar?